What: Upholsterer and designer
Where: London, UK
Website:
Urban Upholstery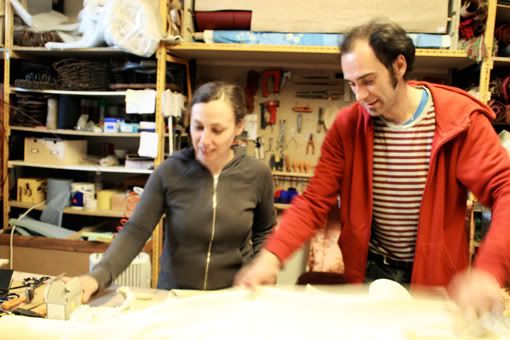 Power pair…
Patrizia Sottile: We are the co-owners of Urban Upholstery in London. Andrea has over 20 years experience as an upholsterer. His clients include the Gianni Versace Group, Harrods and a wide range of antique dealers and designers. I am a design consultant, formally trained as an architect with an MA from St Martin's in Scenography.
In the beginning…
Andrea Simonutti: About five years ago I saw a very nice, abandoned chair (in horrible condition but with great potential) just a few meters from our house. It wasn't the first time we'd seen a piece of furniture abandoned in the street. So I decided to strip it off and reupholster it. This first piece ended up being a Christmas present for Patrizia.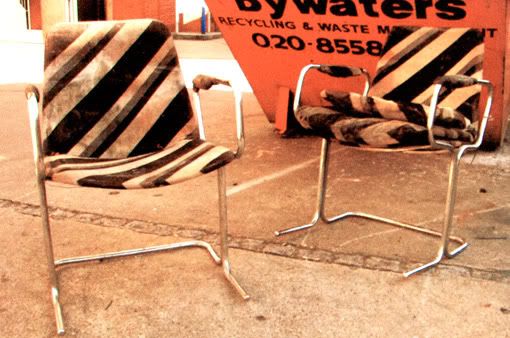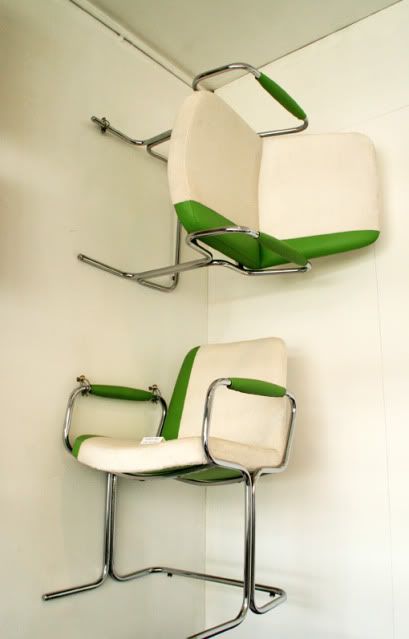 Initial inspiration…
A: It started about 25 years ago. Every Easter, my family would go to visit my uncle in the north of Italy for a few days. But instead of playing at the beach like everyone else, I spent my time with him in his workshop, excited by what he was doing. And from there the passion began. My parents were very supportive and happy to let me go to a technical college after secondary school. And there, I was lucky enough to meet the most influential person of my life, Angelo Busnelli, a talented man who taught us the Art of Upholstery once a week. He taught at the college for free and made me love what I was doing. He was a wealthy man and didn't need to teach. He did it simply because he was passionate about the subject and filled his students with that same enthusiasm. One day I'd like to follow in his footsteps and do for others what he did for me.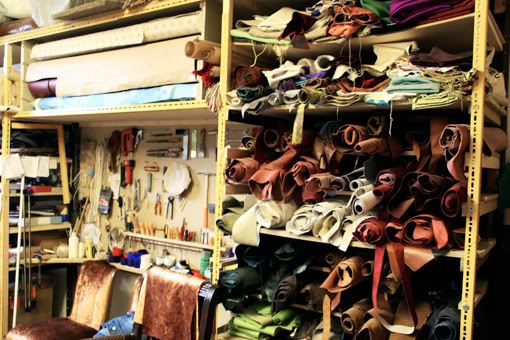 P: It's very important, especially in your early years, to learn how to do something perfectly, like the way Angelo taught Andrea. When there's an emphasis on perfection, you learn to produce a flawless piece of work and continue to strive to produce high quality pieces. Likewise, if you learn to produce something that just looks good but is badly constructed, it's hard to break that habit. You need a teacher that will make you do something over and over again until you've perfected it.

I started drawing when I was very young. I drew the portraits of everyone who visited my house. I also decided that I wanted to be an architect early on and when I was 18 I pursued a career in architecture.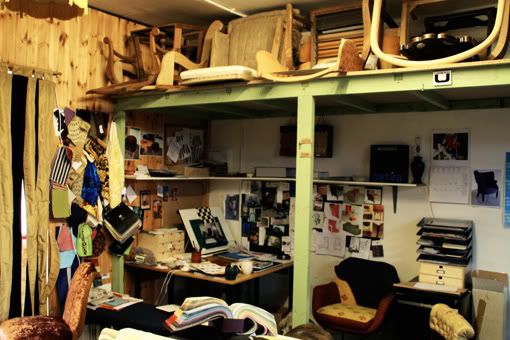 Influential family…
P: My family and friends were always very supportive although they didn't try to understand what I was doing because they were doing very different things. They just saw that I had passion and that was enough for them.

A: In my case, when I was at school, my peers were all going to university and colleges to become doctors, lawyers and that sort of thing. At the beginning, people would look at me and say, 'Oh, wow, you're doing upholstery,' subtly conveying that, in their opinion, it was a lowly job. But, I was always confident and passionate about my choice. And my parents were very supportive. My uncle was and still is an upholsterer so they knew I'd be able to make a living from it. Upholsterers are always in demand. Wherever I've been, I've had a job.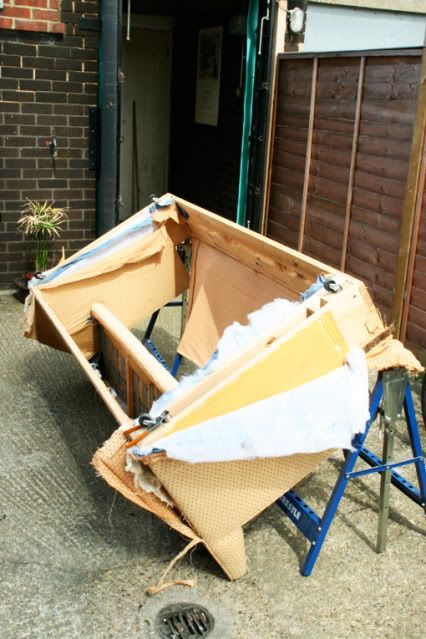 The allure of London…
A: I arrived in London 10 years ago. And two months later I met Patrizia. I left Italy because my life had turned upside down – my father died in 1998 and I broke up with my then long-term partner. I just needed get away and start all over again somewhere new. My plan was to go to London and eventually get to Australia. I still feel like Australia is the promise land and eventually, who knows, I might get there.

P: I read about England in books and it was always my dream to live here. The final push was through my sister. She travels a lot with her work and told me that London was the place I needed to be, exciting things were happening here, so I took her advice and here I am.


Talents…
A: Patrizia is talented as an architect and artist. She's good at finding solutions – colour combinations, designing and visualising what works well together. She's able to find creative ways to make the most of fabrics so we don't waste anything and meet our goals to recycle endrolls.

My role in the company is the handcraft of upholstery. I do the physical upholstery and Patrizia provides her design skills. We work together to come up with the initial ideas; how to tackle a piece of furniture. But I decide whether an idea will work in reality because I'm more aware of the limitations.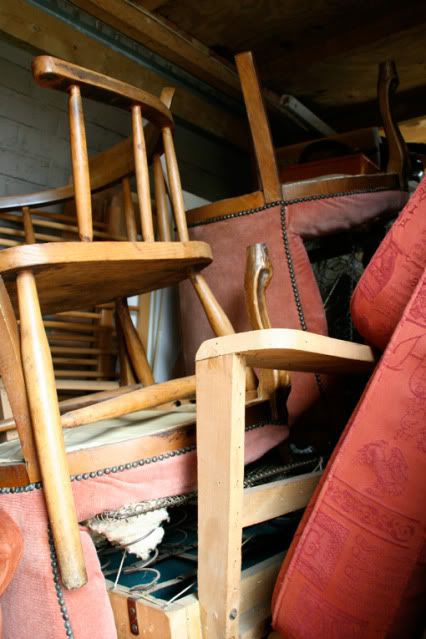 The business side…
P: I have managerial experience so I can handle the marketing. I enjoy making contacts and networking with people that we could potentially work with. Accounting and administration, however, are not the most enjoyable parts of the job for either of us.

A: Even though it's a small business, there are so many things to check and be aware of. We've only been going for 14 months but in time it would be great to employ a secretary/accountant for the office and an upholstery assistant for the workshop.

P: We've been lucky to work with a great consultancy team – a web designer and his wife, a multi-talented copywriter. She guides us in setting business goals and produced all the copy on our website, which he created. Their goal is to help small businesses like ours. They've been there since the beginning and helped set up Urban Upholstery.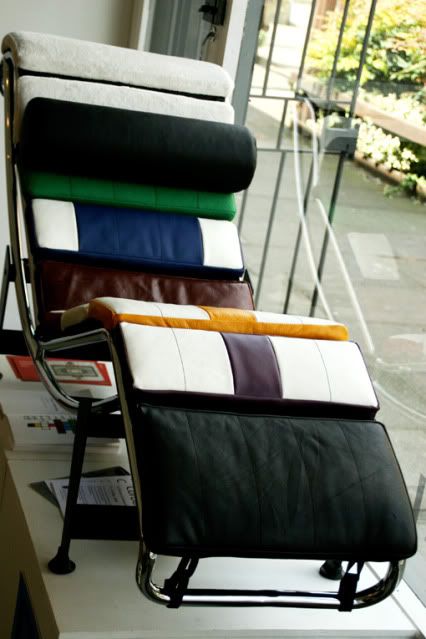 The recycling/reclaiming philosophy…
A: To have a personal connection with the customer is helpful to both parties. Before starting a job, we like being sure that they are happy with the design and colours they've chosen.

P: We like to give people time to think. Most of the time, people buy things on impulse, which often leads to waste. If something is inexpensive, we buy it, decide we don't like it, then throw it away. Ideally, we like the customers to do some of their own research and bring in pictures of what style they like.

A: Every piece in our showroom was originally dumped in a skip or left on the street. We've also rescued chair frames from frame makers and end-rolls that would otherwise have been dumped.

We've recycled timber and metal frames to create storage and shelves in our workshop. All the metal posts that make the mezzanine were just left in our courtyard.

Recycling takes time. In the beginning we didn't have much money and we had a lot of time, as our customer-base was growing, so we made the most of what we found in skips and on the street. But even as we grow, we continue to stick to this principle of recycling. Recycling doesn't mean sacrificing quality or aesthetics.


Collaborating with artists…

A: We're looking to work with artists and designers that are environmentally friendly, who produce original pieces that aren't too big as the space available is limited. The relationship we have with artists is mutually beneficial – the artist gets a space for their work and people who come to see what they've done are often interested in what we do.

P: We're open to work with textile designers, painters, people who want to use the window display or anyone whose work fits with our philosophy.

Inspiration…
We read magazines to see what is out there. But we don't stick to trends because we use reclaimed fabric, which has a look of its own. We go to fairs, art exhibitions and we have a subscription to the World of Interiors – one of the most prestigious interiors magazines.

Relaxation…
P: Well, we've started restoring an old house that we bought in Italy, which isn't very relaxing but it's very fulfilling. Our plan is to use recycled materials as much as we can, not just for furniture but throughout the house.

Besides that, we like cycling, walking in the mountains, barbequing, cooking for friends and having big social gatherings.

A: Right now though, business takes up a big part of our lives. We're working six days a week and time just seems to disappear. We work about 10 hours a day, Monday-Friday, sometimes more, and four hours every Saturday so we don't have much time for relaxing.


At home…
P: It's mostly made up of reclaimed and restored pieces. We've restored tables, chairs, drawers and all sorts of things. My hobby is restoring wood and Andrea does the reupholstering.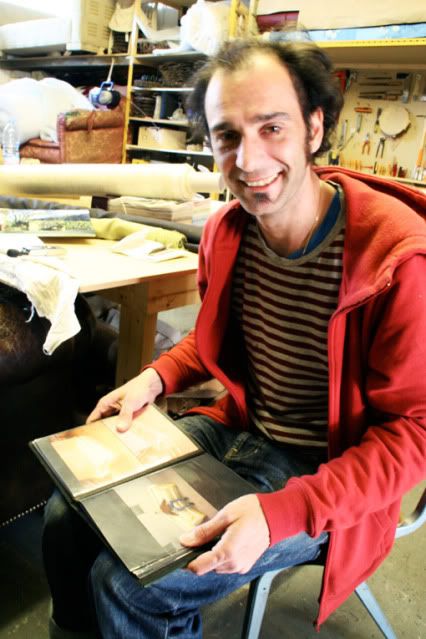 Dreams for the future…
P: I'd like to maintain our independence and be a small business in essence.

A: In decades to come, we'd like to be the equivalent of a shop in Saville Row.

P: We want to stick to our principles – recycling fabric and making high quality pieces. Like when people visit Saville Row they want a tailored suit, we'd like people to visit our shop for when they want to upholster furniture. We can't and don't want to compete with mass producing companies.

A: We want our customers to understand what we're trying to achieve with recycling. There are thousands of companies throwing away fabrics and we want to recycle their waste.

P: Quality and precision, along with recycling and reclaiming, form the basis of our philosophy. That's what we'd like to take with us into the future.