What: Artist
Where: Pretoria, South Africa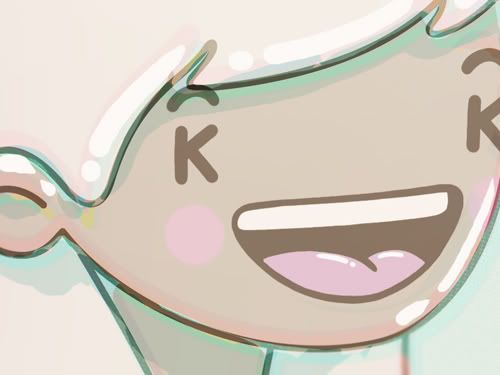 His name is what…
My name is Khaya or 'hisnameiskhaya'. My medium is drawing with pens and markers on paper and painting digitally for digital print or lithography. I drew a lot using graphite pencils as well as the very vivid Albrecht Durer Watercolor Series by Faber Castell in years gone by. I discovered digital media while studying Multimedia Design at Vega in Johannesburg. The computer studios were open 24 hours every day of the month including holidays so I spent a lot of time there, becoming proficient in a number of programmes before having my own computer.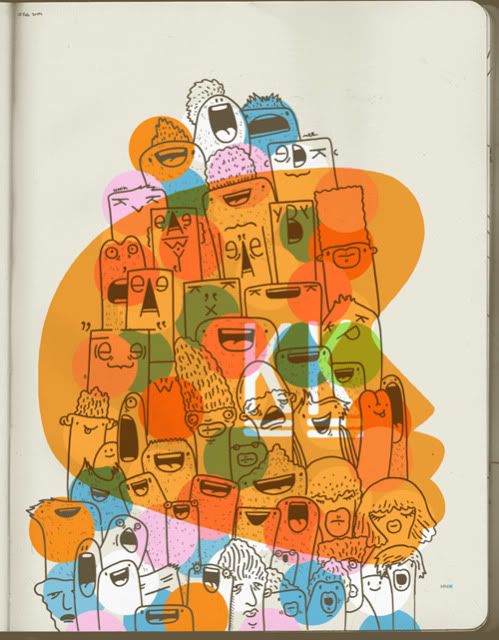 Right now…
I'm making a series of digital prints. I'm not sure what to say about them yet. But I do know they all have something to do with the spirit of freedom and happiness and plenty. It may also have something to do with the cult of beauty, youth and wealth. The colours are washed harmonies of watercolours. My colours are actually very dull, but they feel bright. The line is bold, but has another quality to it. Each print is about a meter in height or width.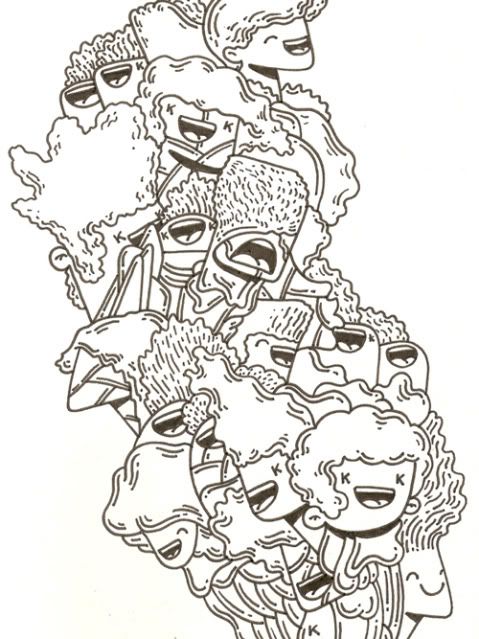 How he learned…
It's always a combination of desire and practise. You learn to do something by wanting to do that thing and then doing it. I've had many years of good practise.

As a young one…
I was a quiet child and teenager, but not necessarily shy. I made a lot of friends. In school I was good at everything I wanted to be good at (academics or sports). The things I liked as a child are the same as the things I like today. I liked Sesame Street, which played great music and great musical animations. I liked watching Charlie Brown on Peanuts. I loved drawing. I liked trees, rivers, mountains, the ocean, waterfalls, clouds, rain, fields and green grass. I loved cartoons and I used to tell people that cartoons are harder to draw than actual people and things.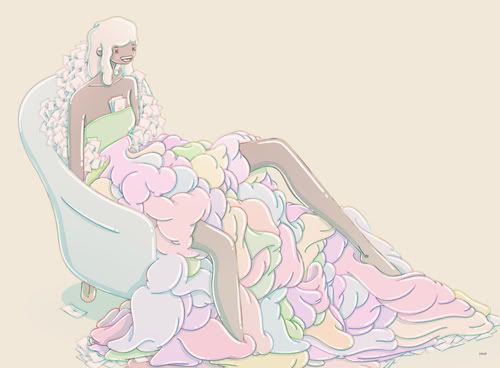 Being good…
I've always been drawing. Its not a question of thinking I'd be good at it.

On the side…
I have no side-projects. I like everything I do to be a natural extension of everything else I do. I feel it's best for me not to multi-task.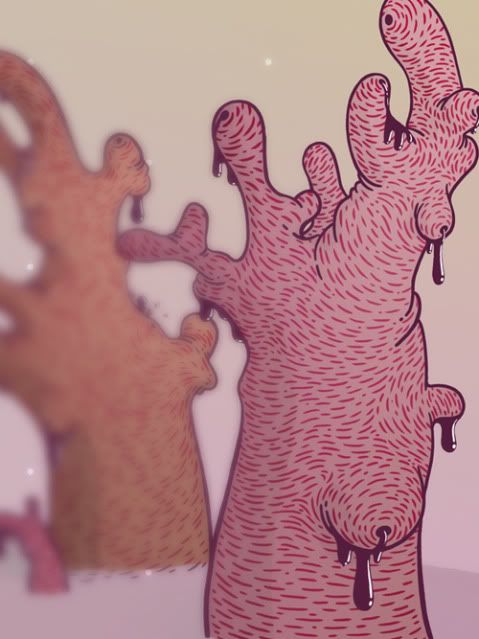 Loves work, loves work not…
Love: The way I'm able to resonate with people through my work and the way the world is open. Dislike: Nothing about what I do.

Place of origin…
I grew up in Ga-Rankuwa and Soshanguve, South Africa. It was very sunny and dusty. There were very few trees and a lot of open spaces. I guess that made me appreciate trees, become sensitive to atmosphere (when it rained it rained hard) and spatial qualities. I also put a lot of sunshine in my work. My colours tend to be washed out probably because of they way I experienced the sun.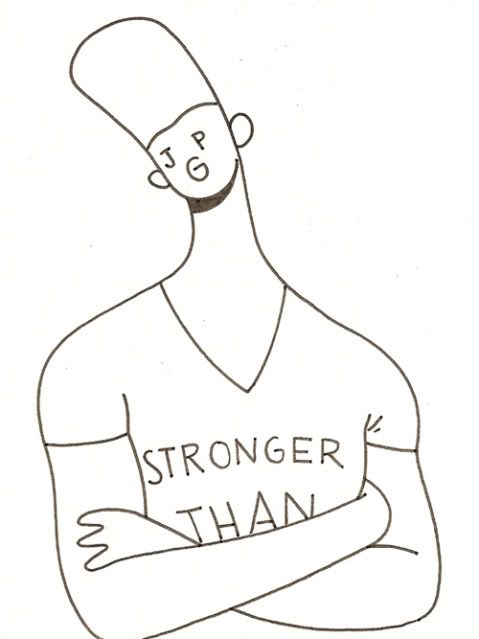 Encouraging home front…
Yes. My parents have supported my decisions (while sometimes being slightly concerned) and told me that whatever I do I must aim to be world class. My brother taught me how to paint when I was 14 or 15. My cousins and my brother used to draw from an early age so I learnt a lot from them. My friends always support my choices. And I trust myself so I trust and support my own choices.

The family…
My mom has more of the creativity. She designs and sews tailor-made African-style clothing. My dad likes factual, scientific information and he's a natural teacher. So where my mom would try something new, my dad would read something new. I guess I have a bit of both, but I'm a lot more into doing. My eldest brother took the medical route like my dad. My other brother drew and painted in school, and today he's a hugely talented hip-hop producer and journalist. My younger sister is studying law and I reckon she has something creative about her, which is still unknown to me.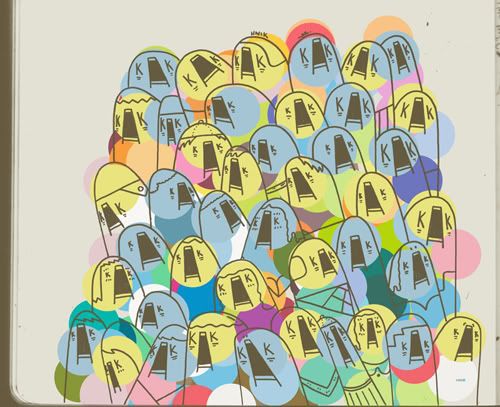 Obstacles…
No physical obstacles. The only one I can think of is recognising the truth about myself and creating my truest path. For me this means recognising and cutting out the unimportant distractions and working on the things I want – the constructive things. Another early obstacle as a young artist is being too impressionable and being easily influenced by things that don't reflect what you're about. You stray off your way doing someone else's work and that leads to frustration or frustrated expression. It's like your head spins and you want to do everything, follow every trend, imitate all the big names of the time and keep up with whatever is cool. That's not me.

Most important lesson…
That my emotions are my most important source of information.

Best advice received…
My dad said I should always close the windows of my car when I'm parked in the garage so that spiders, bees and rats don't get in. They distract you when you're trying to drive.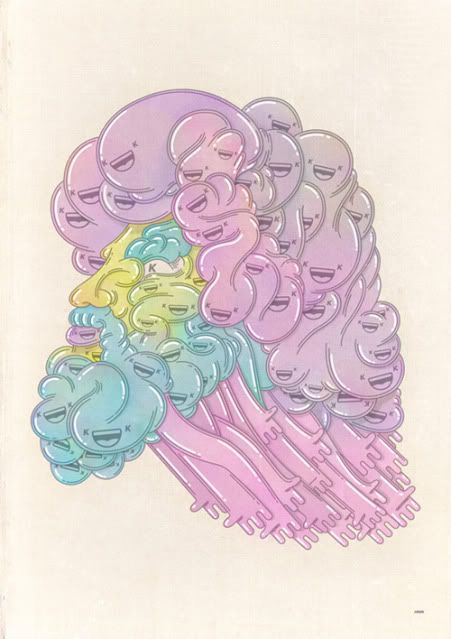 Collections…
I collect podcasts and music of many genres. I collect fashion magazines. I've started collecting books on art. I collect these things because I like them. Let me tell you what I'd like to get: All the Sesame Street episodes from the 70s to the 90s. Please.


Shake off creative-block…
By drawing and looking outside at the trees and the sky. But I'd like to add that I don't search for inspiration, references or influences. These things are inevitable.

Favourite things…
I like the mountain passes and the midlands of KwaZulu Natal – so green, so full of life and peaceful fields. I like looking at pictures and imagining Stellenbosch and the Garden Route towns. I like the forests of Dolder, just on the edge of Zurich, Switzerland (although there are a lot of slugs there and only a few birds). My favourite magazine is Monocle and I hope they cover more on Africa and South America. I also like fashion magazines and National Geographic for their photography. I like books on the history of art.


Websites…
Music sites where I can download podcasts and discover new music. I go to different ones each time. I don't spend a lot of time online.

To relax…
I draw and play a recently downloaded podcast. Or I read something interesting. I like reading interviews and listening to interviews. Or I lay on my back, cross my feet and put my hands behind my head.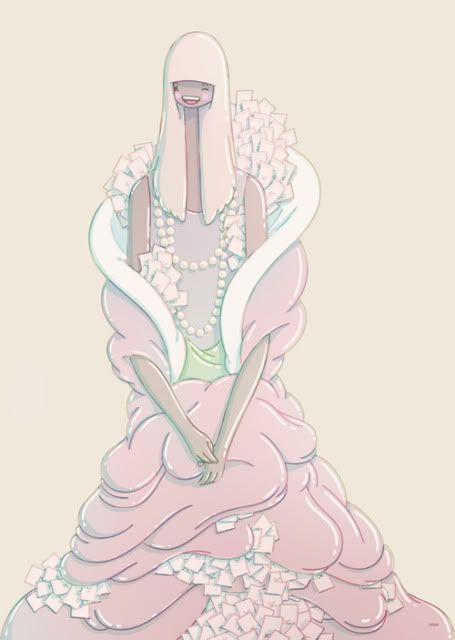 Inspiring people…
Anyone from Jim Henson to Steve Jobs, Tyra Banks, Patrice Motsepe and Keith Haring. Anyone who is living their true expression. Artists, musicians, sportspeople, businesspeople, scientists, academics, mothers and so on.

Immediate future…
More shows and exhibitions in various locations. More fulfilling work. More travel.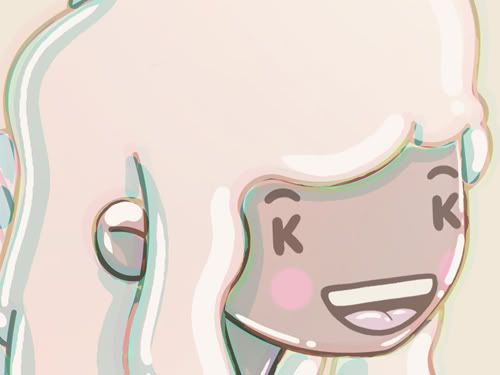 The dream…
To travel the world, live my true expression and achieve success.

Advice to wannabes…
Try it and if it feels good you're doing the right thing.